In 2022 we're bringing a completely new website built from ground up to offer Fi car enthusiast community the best experience. The website is feature packed but at the same time streamlined to offer the most crucial information and functions. We go over the redesigned product search, product page and many other time saving features to make your stay on the website convenient and informative. Read more about the features below.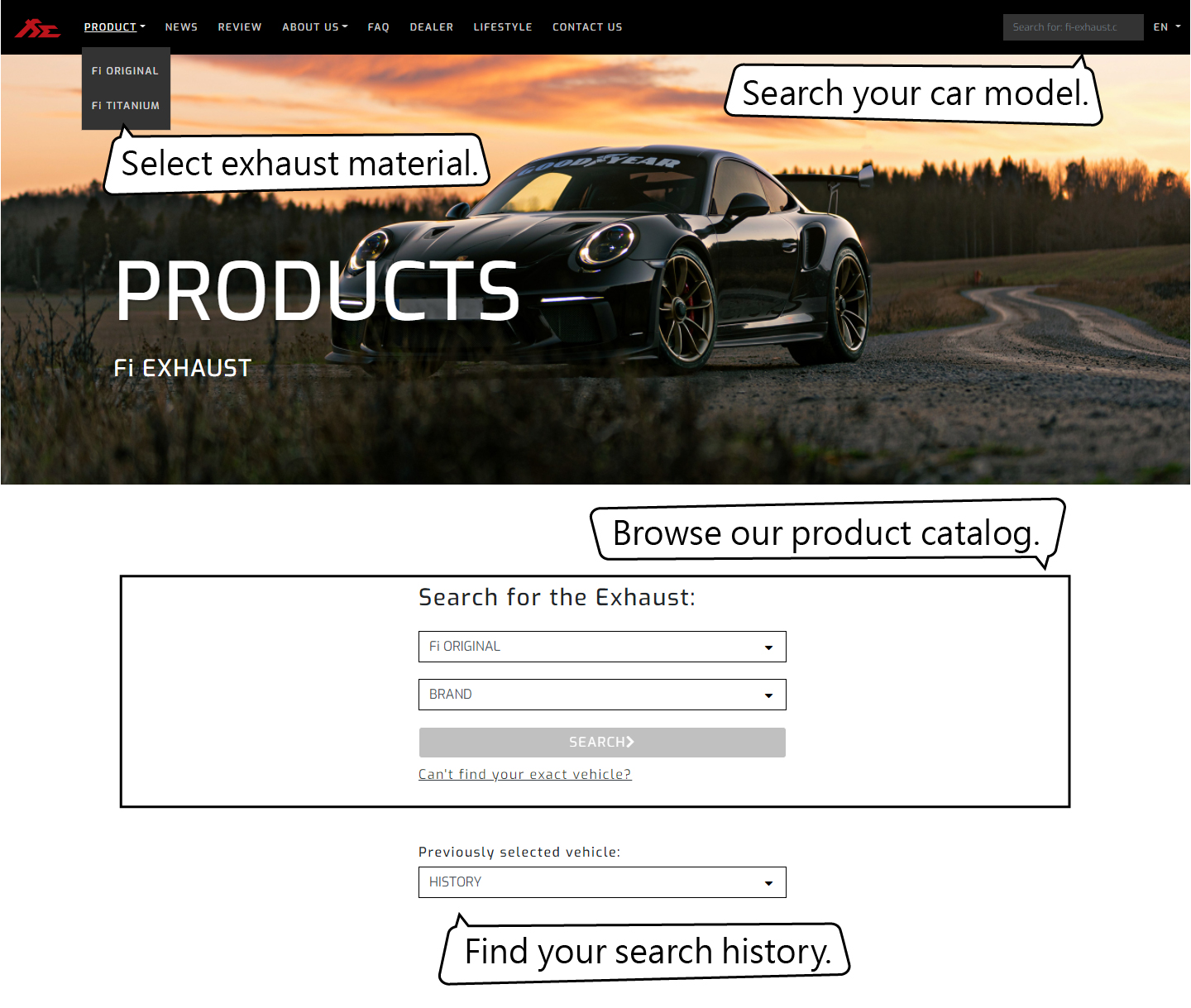 Product Search
We opened up search in multiple ways. Visitors can enter a model name in a search bar at the top of the page or browse through our entire catalog in easy to use Product Search drop down window. Find Fi EXHAUST system by selecting material, car brand, series, model, generation, year, or model. For example, select "Fi Titanium" material for finding all available exhaust setups produced in ultralightweight titanium. However, if you're searching an exhaust system for a particular 911 generation, it can be done in few clicks by selecting the product material, Porsche brand, 911 series and then choosing between 997 to the very recent 992 generation. All available exhaust sets and car models will be presented in a new window, where the selection can be made to view a product page.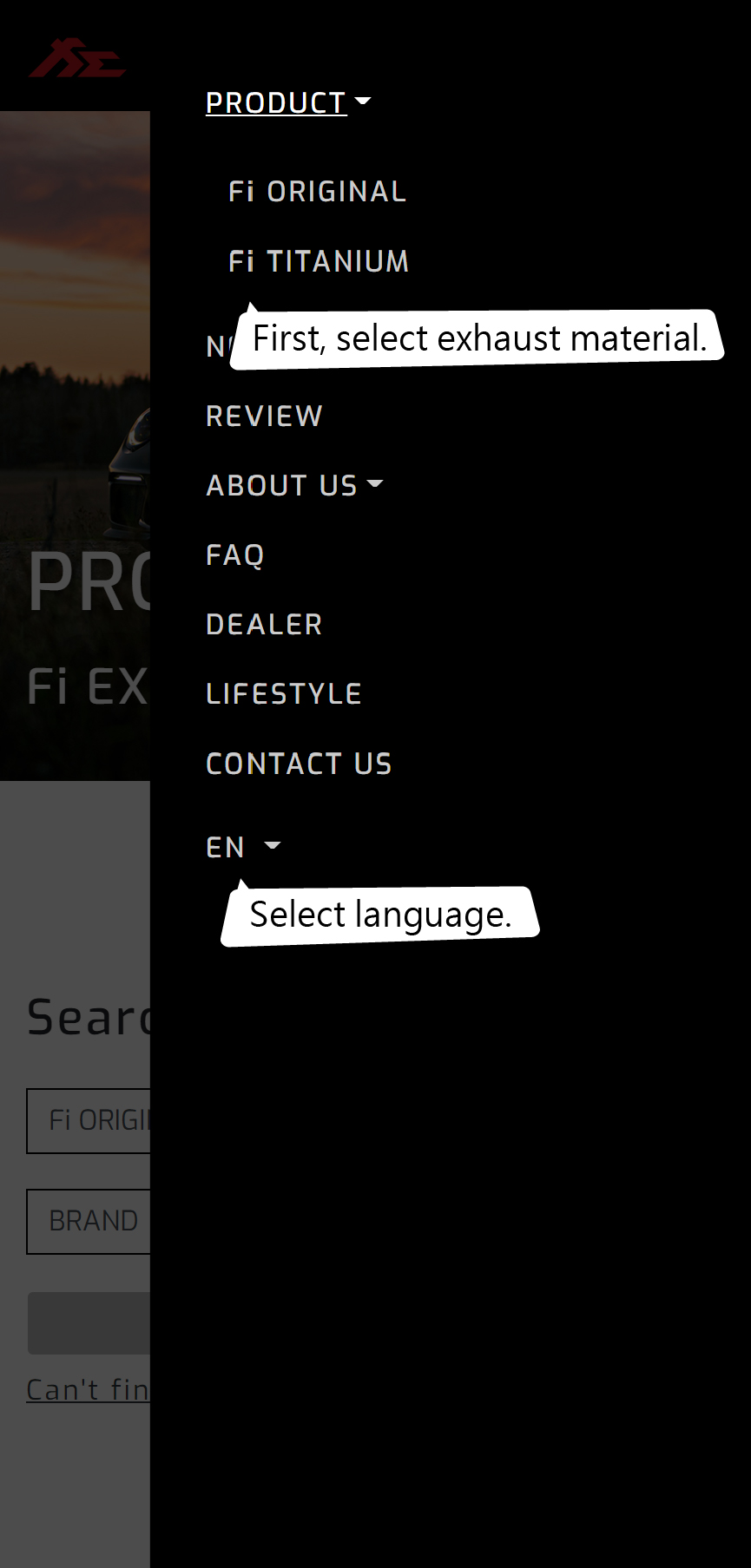 Product Page
Inside the product page you'll find detailed exhaust information, exhaust and accessory options, information about a car model and fitment compatibility. In the Available section drivers can choose between available tip colors, downpipes, heat protection and remote control system. We also teamed up with ZACOE team to offer performance, aerodynamic body kits for selected car models. The aero kits can be ordered in combination with the exhaust setup when filling out a contact us form.
At the bottom of the page is our Media hub that takes you on a Fi sound journey and shows what's possible to achieve after the exhaust modification. We take you through the entire process from exhaust install to the very first cold start and revs. To access all the additional media content like sound check videos, installation process pictures and gallery click More button.
Navigate at the top of the page to access latest news, car community reviews about Fi EXHAUST, Fi Lifestyle store, our brand story and FAQ. And on mobile devices the navigation bar can be opened by selecting three horizontal bar icon at the top right corner.
In the review section you can search feedback from our passionate car community from all around the world. This section will be continuously updated. And if you'd like to submit your video review of Fi performance systems, you're welcome to share it to us. For those interested in our manufacturing processes, technology and our brand story information can be found in About Us section. And to assist with your questions we created FAQ to store the most commonly asked questions and answers. These sections contain important knowledge about Fi EXHAUST waiting for you to explore.
Finally, alongside other accessories we also offer Fi Stickers, T-shirts and other merchandise on our Fi Lifestyle store. And recently the T-Shirt collection was updated with new Limited Edition Heavyweight Crew Neck designs that show off our passion for cars and unleashed petrol engine sounds.
Fi EXHAUST presence can be felt globally. We are an international brand. And to serve our car community we have cultivated an extensive dealer network to assist any car owner with the purchase and install of our performance systems. This list contains certified Fi EXHAUST dealers matching our stringent criteria for service quality.
Enter your country and city to find a dealer near you. If you can't locate the dealer in your location, please fill out the contact us form to speak with regional sales rep. They will provide all the necessary assistance.
Celebrate the new Fi EXHAUST Website launch with us!