X247 AMG GLB 35
OPF/Non-OPF Exhaust System
Product Description
Mercedes-AMG X247 GLB35 Fi Exhaust (Frequency Intelligent Exhaust) high-performance valvetronic exhaust system is direct replacement bolt on system manufactured out of a high-grade T304 stainless steel that offers an exhilarating soundtrack.

The Fi X247 GLB35 EXHAUST system is designed with a valvetronic technology to control airflow, sound volume and enhance the overall performance and torque. On average horsepower is expected to increase from 5-10% after installing a full catless system, which includes a valvetronic catback and ultra-high flow downpipe.

When valves are closed exhaust gasses are routed through the muffler resulting in a low-profile comfortable drive. However, when the valves are fully open an intense and sporty soundtrack is produced.

Switching between street and race sound profiles can be done using factory exhaust/sport button or drive mode, or optional Fi EXHAUST remote control and mobile App.

The unique sound and performance for Mercedes-AMG X247 GLB 35 is achieved through individually designed muffler internals that are fabricated to offer an ultimate driving experience.

Please note each part of the Fi EXHAUST system needs to be ordered separately.
Different exhaust parts are offered depending on the vehicle version.

Please note that the actual product may vary in appearance depending on the year of the car and area. The exhaust system is also subject to changes to the design over an extended time period. Product pictures are for illustration purposes only.
Available
Valve
All Fi EXHAUST exhaust systems are equipped with valvetronic technology. This technology is not only used to control sound volume, but also enhance overall performance of the vehicle. Before the inception of this technology, horsepower and torque were irreconcilable contradictions in the design of exhaust systems. This allowed sports cars to have high torque power at low rev speeds and even higher horsepower capability at high rev speeds.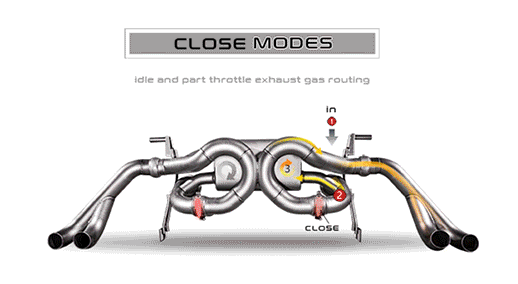 Catless Standard Version
The ultra-high flow catless downpipes remove restrictive factory catalytic convertor. They increase exhaust gas flow and performance gains, produce higher sound volume. And is usually recommended option going further with ECU tuning.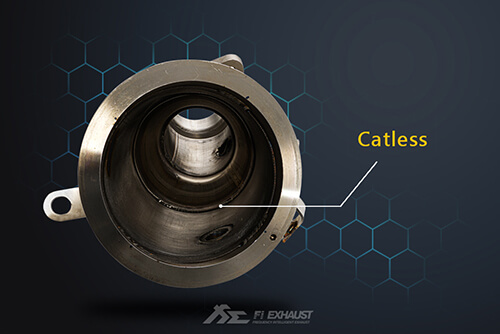 Catless Sensor Version
The ultra-high flow catless downpipes remove restrictive factory catalytic convertor. They increase exhaust gas flow and performance gains, produce higher sound volume. The downpipe is also equipped with a dummy oxygen sensor to reduce a chance of the check engine light (CEL) being triggered.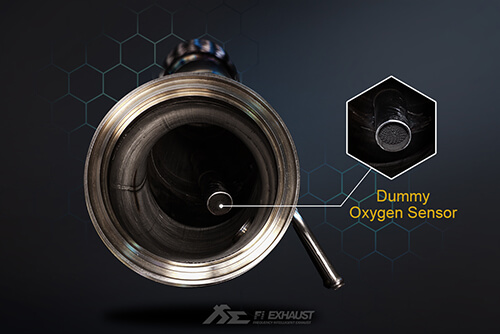 Sport 200Cell
With the larger cells and fast exhaust flow rate, it is smooth, durable and do not have refractory wool burn-out problems. The higher the number of the cells, the smaller and denser the hole is. The higher the back pressure, the more it can enhance torque performance, while the opposite is true for increasing horsepower.Converting your stock catalyst converter (400~800 CPSI) into our metallic catalyst converters will result in significant enhancements in airflow discharge that circumvents the limitations and parameters set by car manufacturers.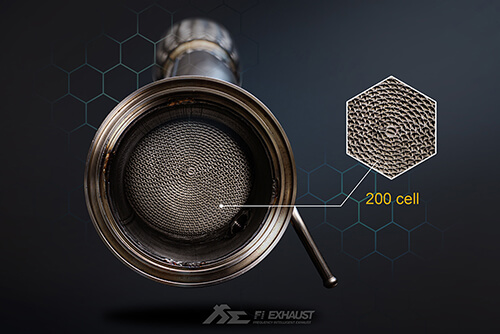 Ceramic Coating
Fi EXHAUST eliminates traditional thermal insulation materials that contain toxic substances, and directly coats the exhaust pipe with a nano-ceramic coating to protect from corrosion, reduce heat exposure to heat sensitive components in the engine bay and keeps temperature low. It's a great way to improve longevity of the exhaust and other components prone to thermal degradation like wiring.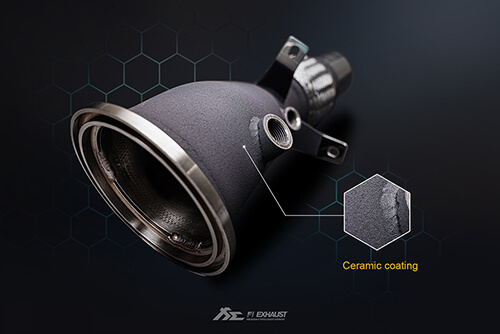 NON-OPF / OPF
OPF is also known as particulate filter or GPF gasoline particulate filter. In recent years, new car models will be equipped with this filter on the exhaust system in order to comply with increasingly stringent environmental regulations. Fi EXHAUST versions will also be developed on OPF and non-OPF vehicles to make sure fitment is precise.