If you are thinking about getting Fi EXHAUST for your car, you might be wondering what the benefits of an aftermarket exhaust system are. In this blog post, we will explain how a performance exhaust can improve your engine's performance, fuel economy, and sound.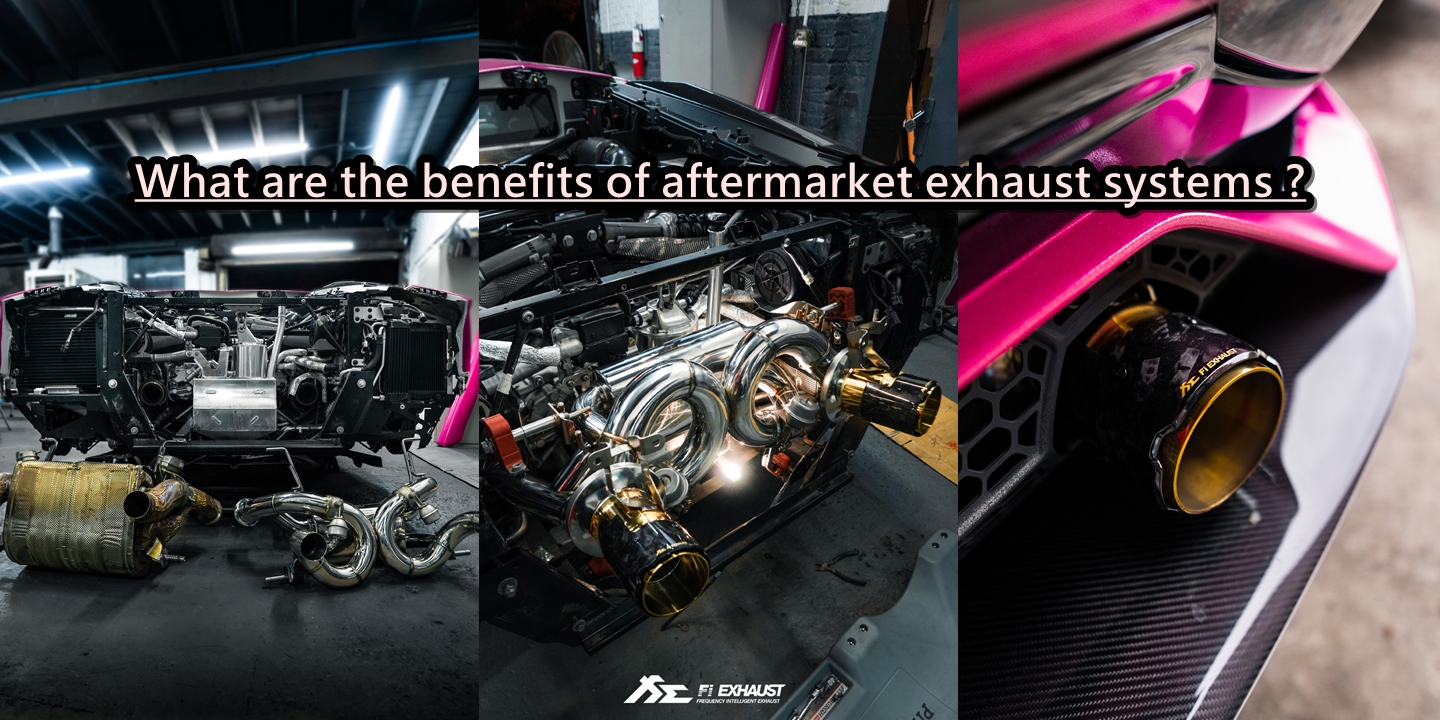 Fi EXHUAST on Lamborghini Aventador LP770-4 SVJ

---
Improving engine air flow efficiency – Performance enhancement
The OEM exhaust system is designed to comply with increasingly stringent environmental regulations and restrictions. In addition to the catalytic converter that was originally present, there are now more components such as OPF/GPF (Gasoline Particulate Filter) to further control emissions. However, these additions often restrict the airflow, affecting the driver's direct experience and the overall enjoyment of the vehicle. That's why OPF/GPF is colloquially referred to as the "sound killer."
The stock exhaust pipe often fails to provide sufficient airflow due to the compact density of the catalytic converter, leading to poor exhaust gas flow and even backpressure. This can cause the burned exhaust gases to flow back into the engine, resulting in inefficient combustion when fresh air and exhaust gas mix excessively. Modifying the exhaust system aims to reduce backpressure and restrictions in the piping, allowing the engine to breathe much more freely. As a result, more power and torque can be generated. A vehicle that has undergone exhaust modification operates smoother, forcefully, and can make the driver feel like they are driving a different car altogether.
While improving airflow, reducing restrictions, and enhancing engine efficiency, modified exhaust systems can also improve fuel efficiency. This is why some people claim to experience better fuel economy after installing an aftermarket exhaust. However, in most cases, when overall efficiency is increased, the vehicle requires more fuel to deliver greater horsepower. So, although fuel efficiency may improve relative to the increased performance, the vehicle may consume more fuel. In other words, while modified exhaust systems can enhance fuel efficiency, the actual savings will depend on factors such as the vehicle model, driving conditions, and driving habits.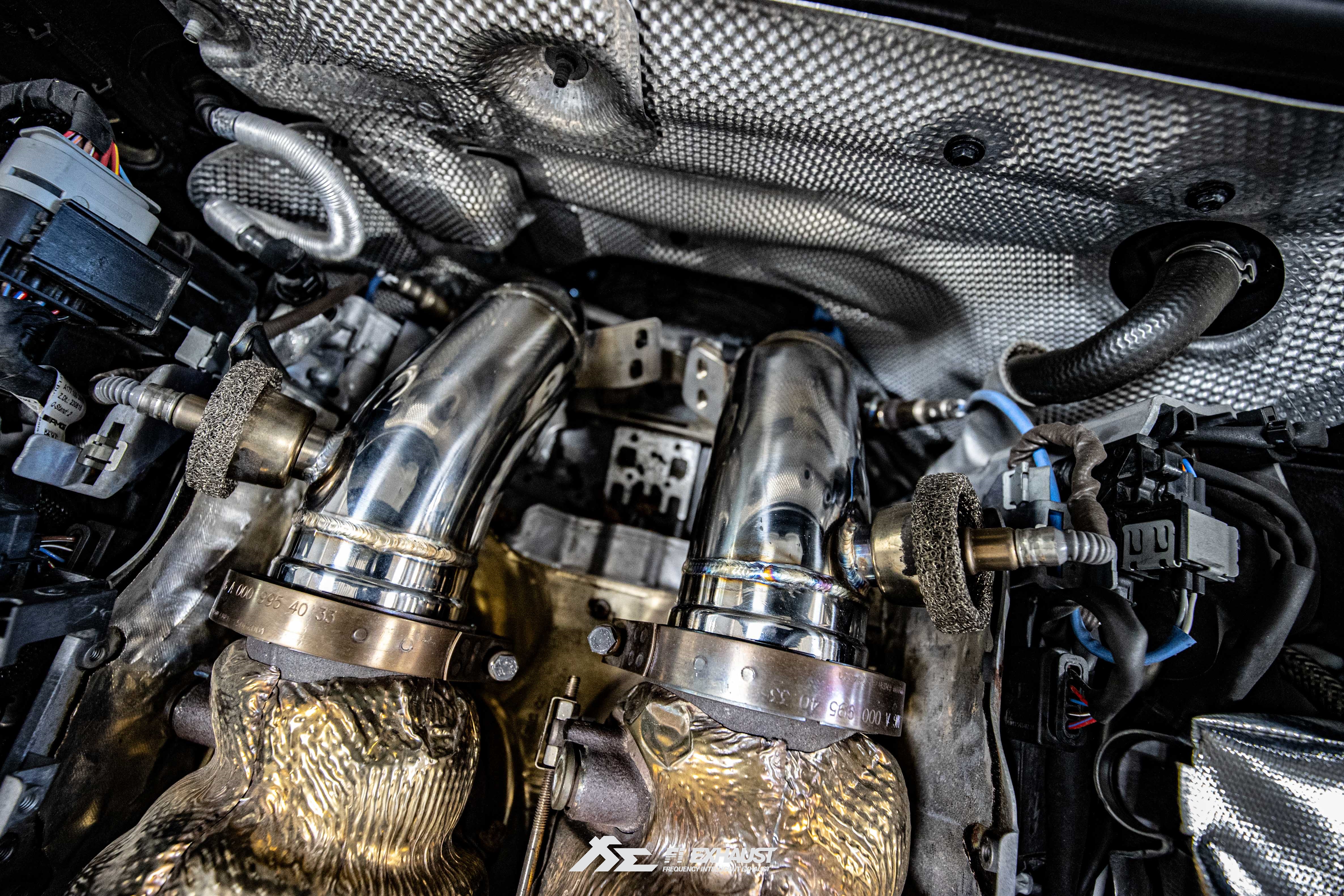 AMG W213 E 63S with Fi EXHAUST Ultra High Flow Downpipes

---
Weight Shedding - an extra benefit of modifying the exhaust system!?
For car owners focused on performance modifications, apart from improved airflow and increased horsepower, "weight reduction" is also crucial for the vehicle's performance and dynamics. And the benefits of weight reduction are not limited to performance-oriented car owners. Magazines and media often discuss the power-to-weight ratio of vehicles, calculated as KG/HP (kilograms (or pound) divided by horsepower). In simpler terms, it represents how many kilograms of weight each horsepower has to bear. In terms of vehicle dynamics and performance, reducing weight is actually more efficient than increasing horsepower. That's why lightweight modification products are so popular nowadays.
Everyone is trying to find ways to make their cars lighter. When it comes to individual components, a large part like the exhaust system can weigh dozens or even more than twenty kilograms. That's why materials like titanium alloy are highly sought-after in exhaust system modifying. In terms of weight reduction, Fi exhaust systems utilize 3D reverse engineering, reducing the conservative routing of the stock exhaust, using special bending machines to minimize welding points, and shrinking the bulky stock mufflers. This not only helps with airflow and sound but also reduces the unnecessary weight added by the stock exhaust to comply with restrictions. For example, the Fi version headers and performance valvetronic catback for the Porsche 992 GT3 consist of only two parts, but these two parts alone make the Fi version 7.95 kilograms (17.527lbs.) lighter than the stock system, which weighs 30.2 kilograms (66.58 lbs.). Considering that the entire 1435-kilogram (3,163 lbs.) 992 GT3 is now almost 8 kilograms lighter just from the exhaust, it is indeed a satisfying result.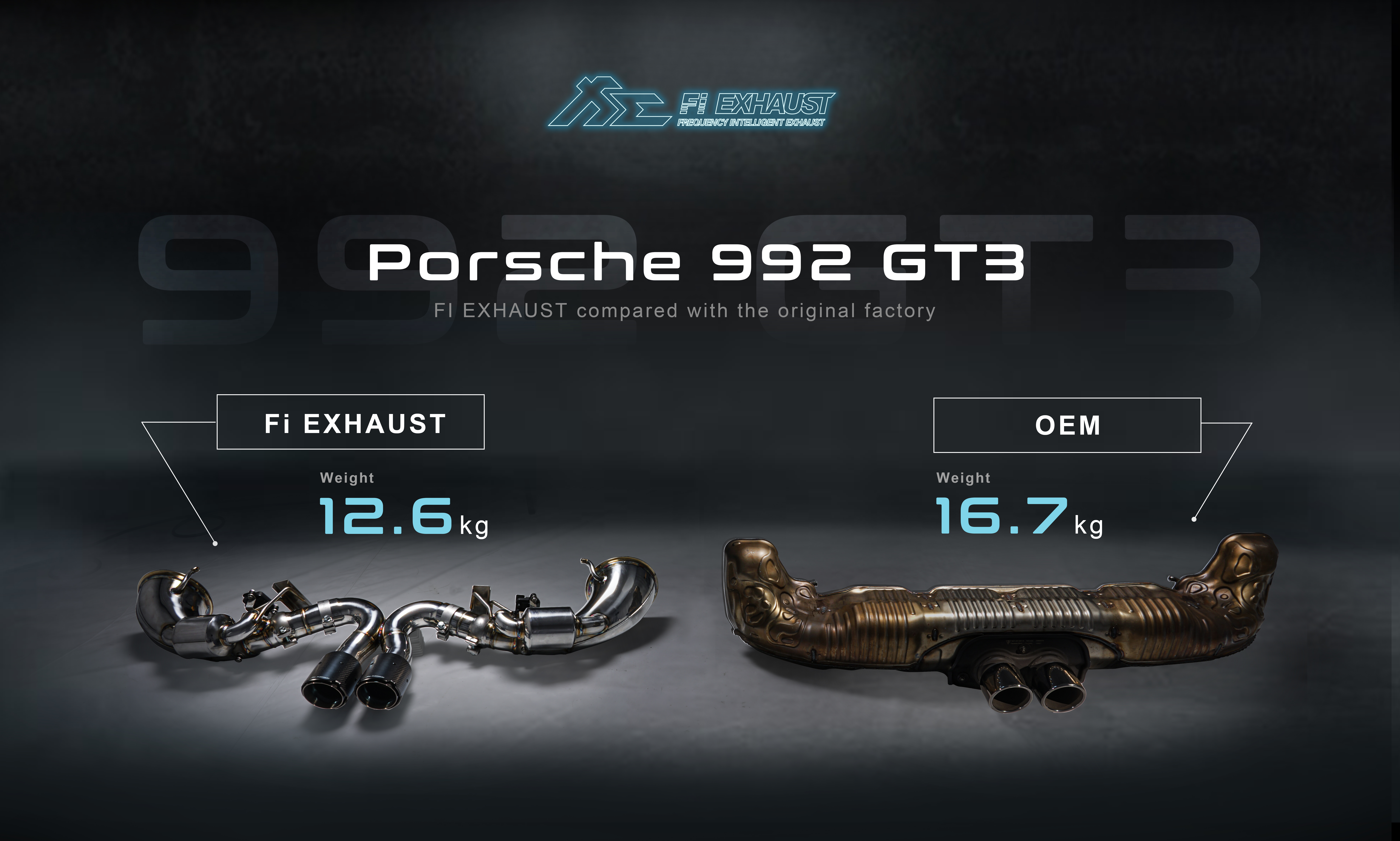 Fi systems not only free up the restricted airflow of the stock system but also make significant weight reductions. The 992 GT3 Fi performance valvetronic catback is 4.1 kilograms (9 lbs.) lighter than the stock version, while the high-flow banana header is 3.85 kilograms (8.5 lbs.) lighter. This dual upgrade is a cherry on top to a track-born GT3.
---
Unrestricted Sound - Enjoy the Thrill of Driving
One major advantage of modifying the exhaust system is the ability to have a throatier, deeper tone at low revs and a louder, more resonant sound at high revs by removing the restrictions imposed by stock components and regulations. Each engine has its unique voice, but these heavenly tones are often muted due to modern regulations. Aftermarket exhaust systems typically feature designs that differ from the stock ones, and factors such as the routing of the pipes, diameter, and muffler design all contribute to the final sound produced by the exhaust.
The subjective perception of sound quality, loudness, and volume levels can vary from person to person. To minimize the variables that affect the sound experience, Fi exhaust systems go through a development process where two stock exhaust systems are scanned simultaneously. Several prototype systems are created based on the data and sound characteristics provided by the engineers. Achieving a perfect balance between sound levels and tonal details has always been our goal, and that's why Fi's signature sound has received unanimous praise from automotive enthusiasts all around the world.
Currently, many aftermarket exhaust systems feature valve functionality that can be controlled via remotes and smartphone apps. These systems allow you to adjust the sound based on your driving habits. Fi's signature Fi PRO remote control system, tailored to your personal driving style and preferences, allows you to have your desired sound whenever and wherever you want it.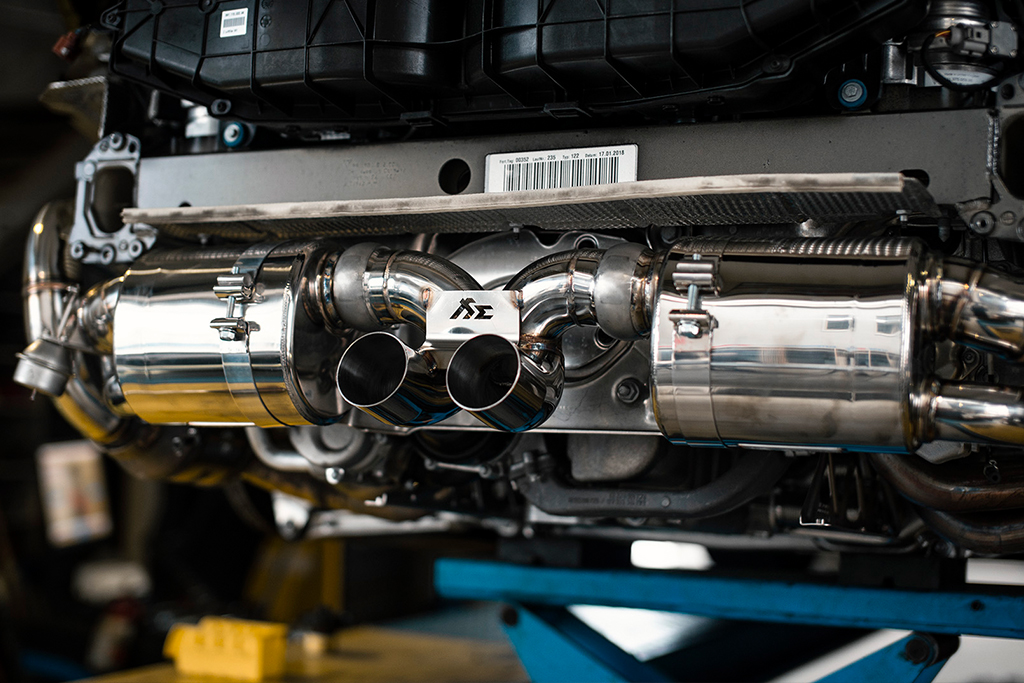 Fi EXHAUST on Porsche 991 GT3 / RS
---
The Unsung Exterior Upgrade

A set of beautiful exhaust tips can make a world of difference in the overall appearance of a car. Even if it's just an exhaust modification, a set of carefully crafted exhaust tips can significantly alter the first impression of the entire vehicle. Many people ask us about the price of buying a tip separately, and here we apologize: we, Fi Exhaust, do not sell exhaust tip separately. This is because, after installing an exhaust system, typically only the exposed tips are visible in the end. It's about the impression we give to others and our commitment to quality. The tips of an exhaust system are indeed a small component in the realm of modifications. However, the success or failure often lies in the meticulous attention to every detail. So, when modifying your exhaust system, don't forget to put in extra effort to choose tips that you like for your beloved car!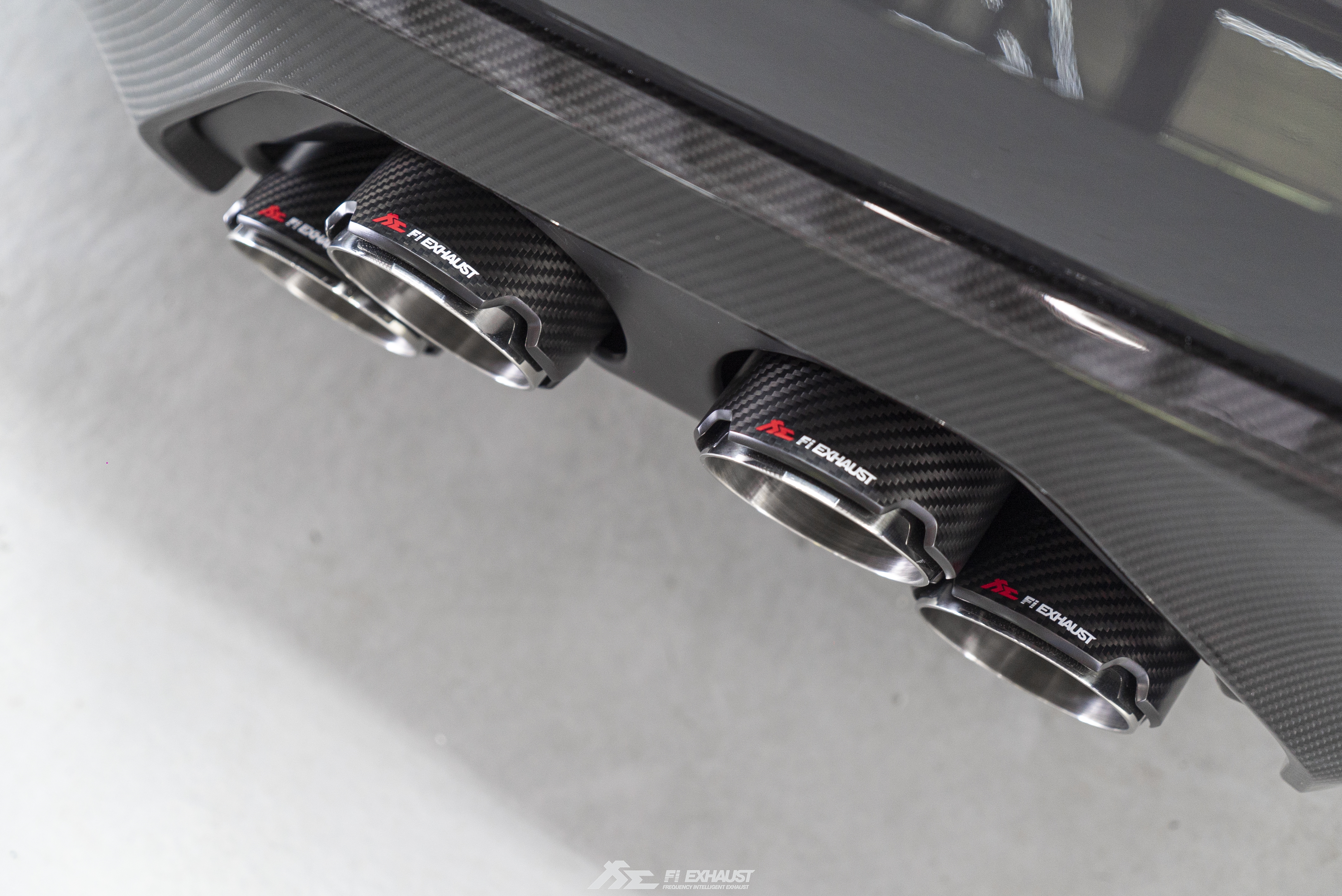 Fi Version M-Performance Style Quad Exits Exhaust for G80 M3/G82 M4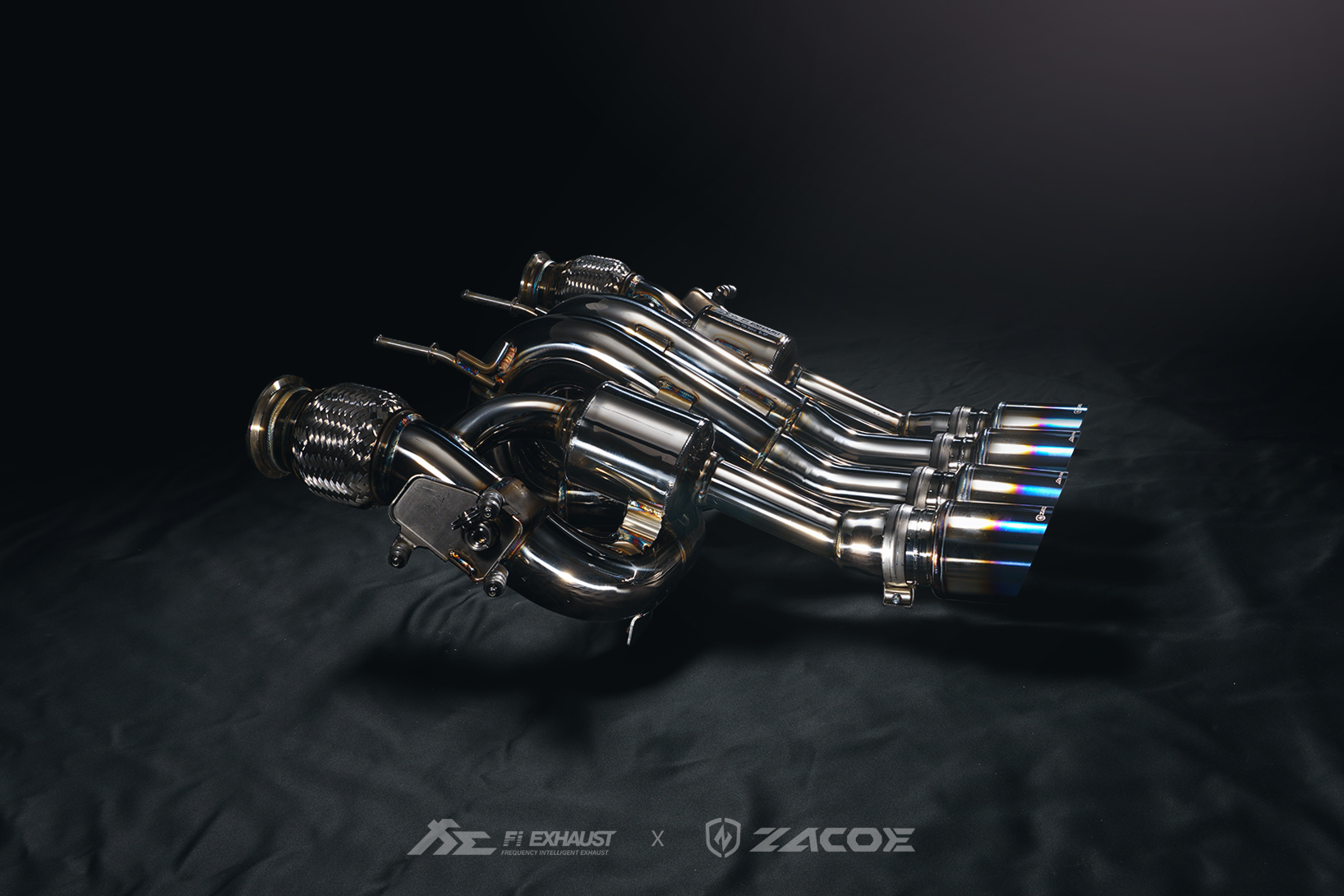 Fi EXHAUST Custom-made 720S Center Quad Exhaust Conversion Kit ft. ZACOE
---
Safety First - Vehicle Temperature Control

The operating temperature of an engine can easily reach high levels, especially in high-performance and sports cars, causing it to heat up to the point of glowing red. At such times, special heat insulation materials are necessary. As a significant portion of Fi's customer base consists of high-performance sports car owners, we introduced our custom-made Fi Space Heat Shield and Golden Ceramic Coating several years ago. These products ensure that car owners need not worry about exhaust overheating during intense driving. The Fi Space Heat Shield, in particular, has gained significant popularity among owners of vehicles like the 720S.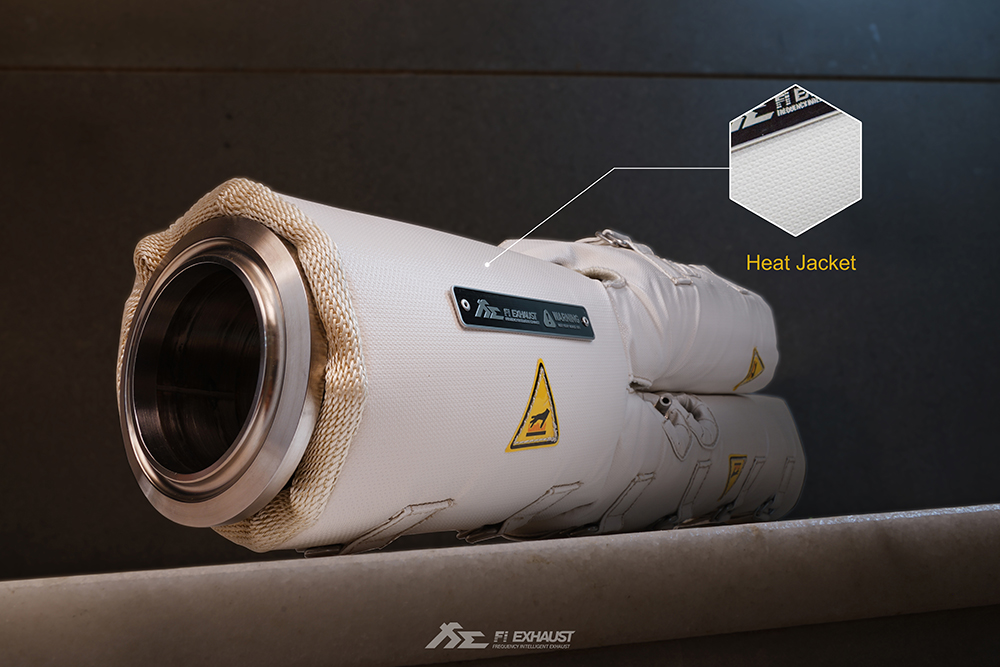 Fi Space Heat Shield for rear-emgined sports cars.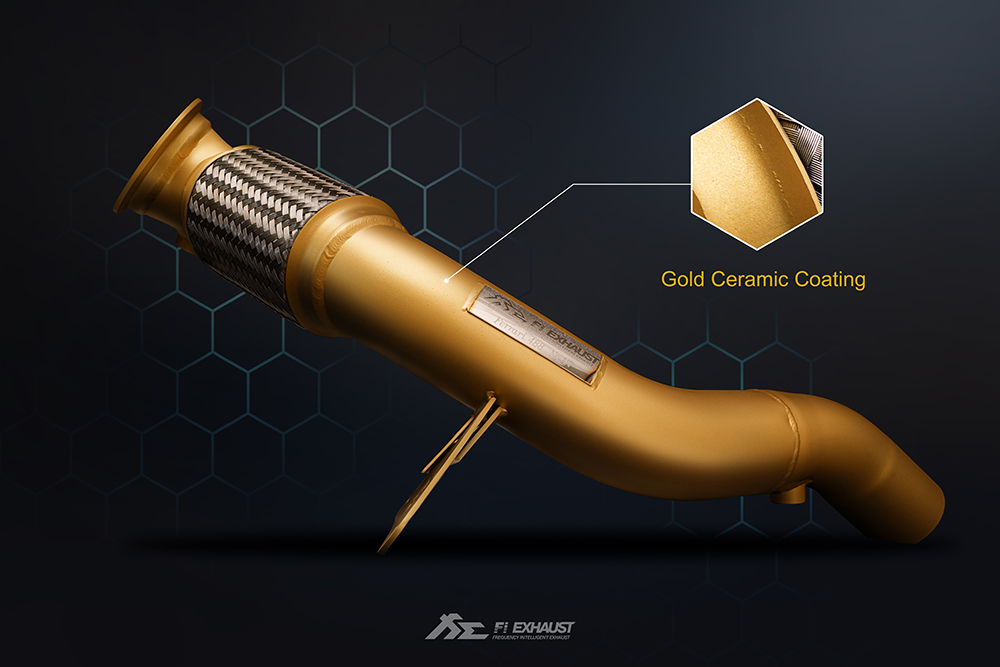 Fi Gold Ceramic Coating Downpipe
---
Lastly, you must know
that Fi EXHAUST is one of the most popular aftermarket exhaust brands worldwide, and we not only possess all the mentioned advantages but also set the standards very high. Every Fi EXHAUST system is made from high-quality stainless steel T304, which is second only to medical-grade stainless steel. It has higher strength compared to standard steel or aluminum-coated steel, which is crucial for safety, durability, and the longevity of the exhaust system.


Our special mandrel bending technique provides a smoother flow path, allowing the exhaust system to handle greater pressure with ease. Additionally, the reduced number of welding and screw points ensures exceptional durability. Each pipe is meticulously hand-polished both inside and out, resulting in a mirror-smooth surface that allows for optimal airflow. Besides the cutting-edge quality, Fi EXHAUST systems incorporate industry-leading remote control technology—the Fi PRO Remote Control System. It can be paired with the intelligent ECU exhaust control valve via your smartphone, allowing you to adjust the sound level and frequency based on your driving mode. With just your fingertips, you can have complete control over your vehicle's exhaust dynamics.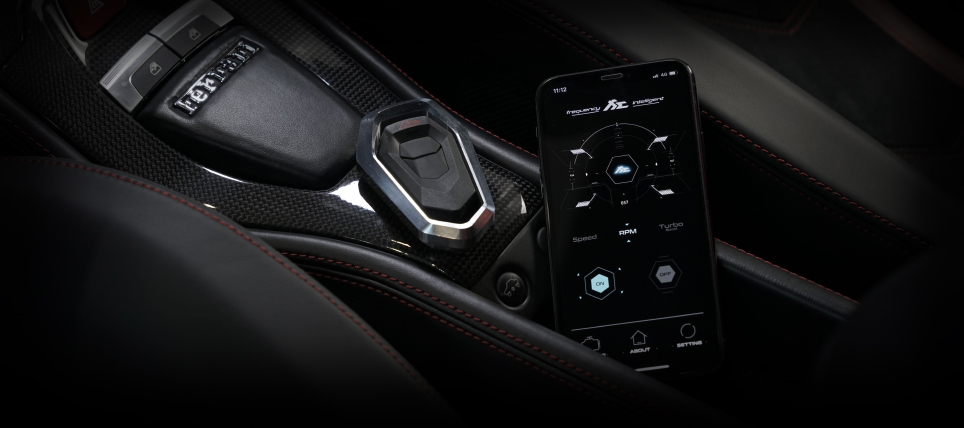 Fi PRO Remote Control System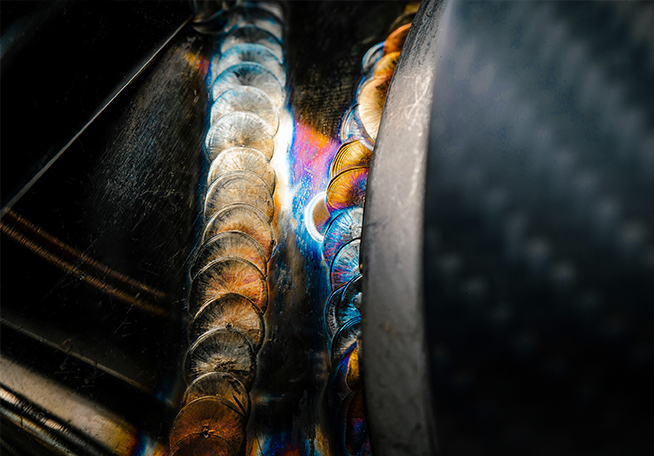 TIG welding in the shape of fish scale for better durability and the highest safety.

---
If you are interested in getting your car a set of Fi EXHAUST system, you can visit Contact Us page for more information. Our regional sales will be happy to provide all the answers and services. Fi EXHAUST systems cover various brands and car models, ranging from high-performance German cars and Italian supercars to cool dad SUVs and legendary JDM models that has unique stories.

Fi EXHAUST's exhaust systems can bring a completely new appearance, sensation, and sound to your car, making it stand out from the crowd like never before. The smiles per gallon on the faces of car enthusiasts after installing Fi EXHAUST are our greatest sense of achievement. One thing they always said after the first drive, "It feels like a completely different car!"
---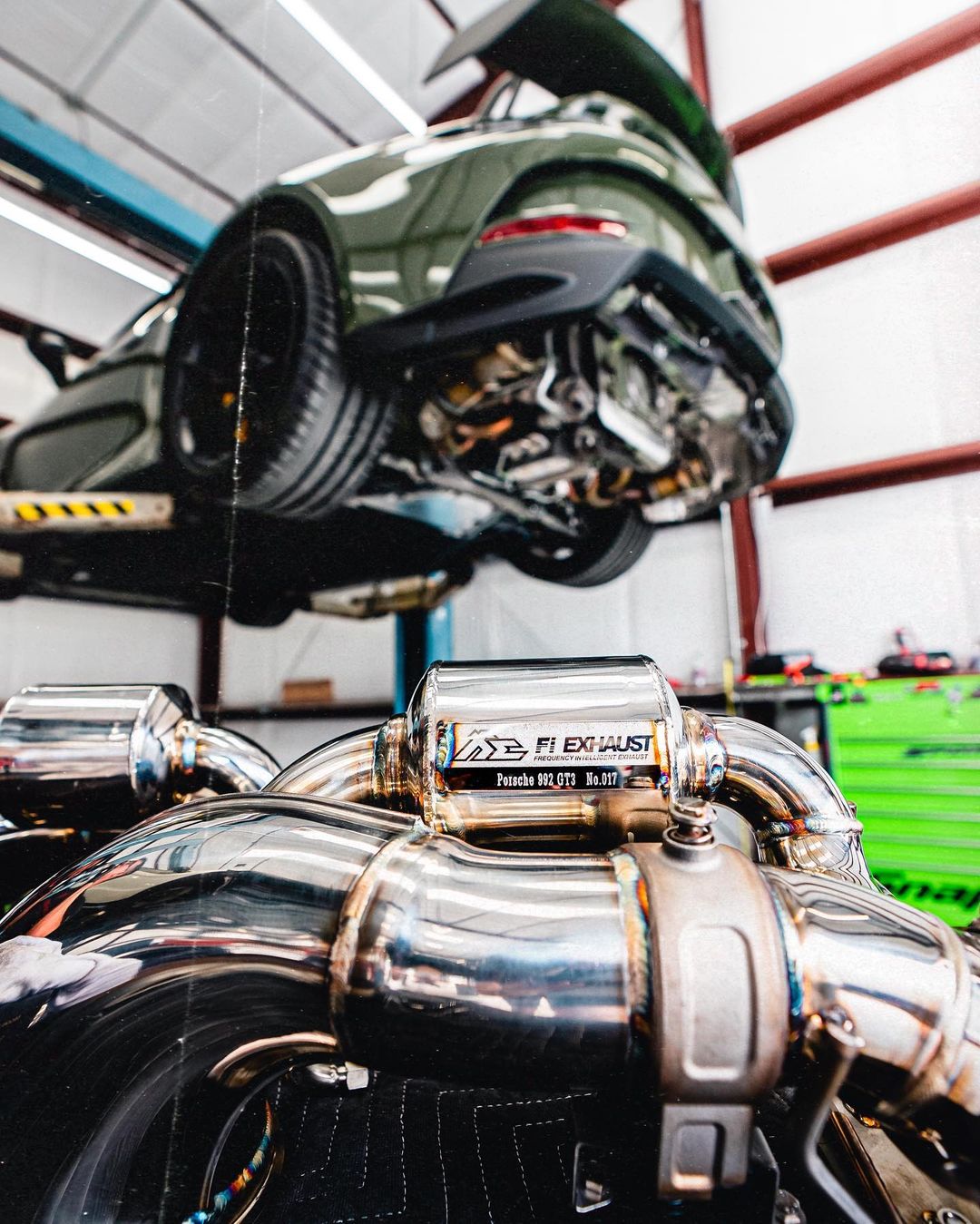 Fi Porsche 992 GT3 Valvetronic Performance System, ft. JoeKnowsBest